At the Verneda Camping Mountain Resort, you and yours come first. Our facilities offer all the amenities for a holiday full of new experiences for the whole family and groups of friends in this corner of the Pyrenees.
To appreciate the #VernedaLIFE, you have to experience it. And, as we know that an image is worth a thousand words, here are some good shots from the Verneda Camping Mountain Resort.
#VIDAVERNEDA, past and present
The #VernedaLIFE began one cool afternoon under the shade of our trees, back in 1986, more than three decades ago. It was then that we realised, and we will always remember it, the need for such a beautiful space to be shared. And so, we started this project.
The Verneda Camping Mountain Resort stems from a family tradition and dates back 32 years, when the Aran Valley was synonymous with winter tourism. The main objective behind this campground was to promote a new model of alternative and sustainable accommodations in the Aran Valley.
A brief look at our history
1983 - Preparation of the land José Manuel Monge starts preparing the Verneda site. This site is combined with the adjoining plot, called Es Boixetes, and a bridge is built over the Garonne River to link the two.

1986 - Opening of Camping Verneda The campsite was opened with the following services: 125 camping spots, 12 showers, 12 WC, sinks, bar-restaurant, heated pool and a large, 150m2 social room.

1987-1997 Camping Boom Decade that boosted camping tourism and first steps in our #VernedaLIFE

1990 Change in camping trends. New decade, new changes... Getting ready to create a unique identity!

1998 - Installation of bungalows Pleta Aran Different bungalows for different people: Beret, Artiga, Salient, Barradòs, Garona in Zone 3.

2000 - New family spaces With families and their comfort in mind, we created the bungalows Pleta Aneto so everyone could enjoy their holiday in Val d'Aran together: Bassivé, Liat, Montarto, Tuca in Zone 4.

2002 - Creation of bungalows Pleta Maladeta Holiday for all! The best thing about mountain getaways is when everyone can rest together under one roof. Opening of the type-C bungalows: Casteràs, Joeu, Nere, Bausen, Toran, Restanca in Zone 5.

2005 In addition to the growing investments in bungalows, VCMR continues to improve its services and facilities: expanded bathroom area, washers-dryers, child entertainment service, tour guide, construction of a covered barbecue area as well as a shelter for rainy days, children's playgrounds, expanded services offered free with night-time entertainment on offer, pony rides.

2007 - Construction of the Borda Suite We're moving up! A new concept in bungalow design in which innovation takes centre stage so guests can enjoy the setting in this valley of valleys in the ultimate comfort. Opening of the Borda Suites: Cabiròu, Isard in zone 8..

2012 - Upgrading of service area At this point, the campsite's services include a heated salt-water pool, a restaurant/bar and a barbecue.

2013 - Construction of Cabanes Inspired by the needs of getaways by families or friends, we welcome our new Es Cabanes: Varicauva, Entecada, Montgarri - Gelès, Sarrat, Auba.

2014 - Expansion of free services for our camping guests Children's activities, free guided tours, pony rides and more.

2015 - New luxurious cabins: Bordeta Luxe Innovating again with luxury lodging that combines quality and modernity in a natural, rustic setting.

2016 - 30th anniversary celebration Numerous activities held, like concerts, guided tours, etc., to celebrate the 30th anniversary of Camping Verneda.

2018 - #VIDAVerneda We look forward to enjoying the #VernedaLIFE with all of you for many more years to come.
Ever since, we have worked daily to create new spaces in which to continue "collecting moments," always respecting the surrounding natural environment, and adapting to it. The values of the #VernedaLIFE are all about caring for and protecting Nature, promoting sustainable tourism, and offering attentive and personalised service. We believe that if the people who visit this beautiful area of the Aran Valley fall in love with it, they will promote and raise awareness of ecofriendly tourism actions and, day by day, get the message out, thereby improving the current state of Nature. Because, after all, the environment is the legacy that we leave our children.
The #VernedaLIFE is, above all, the perfect way to explore Nature, with children of all ages. Here they are the stars. In the summer they have daily activities, and the rest of the year, all kinds of places to explore, non-stop, accompanied by their loyal canine friends.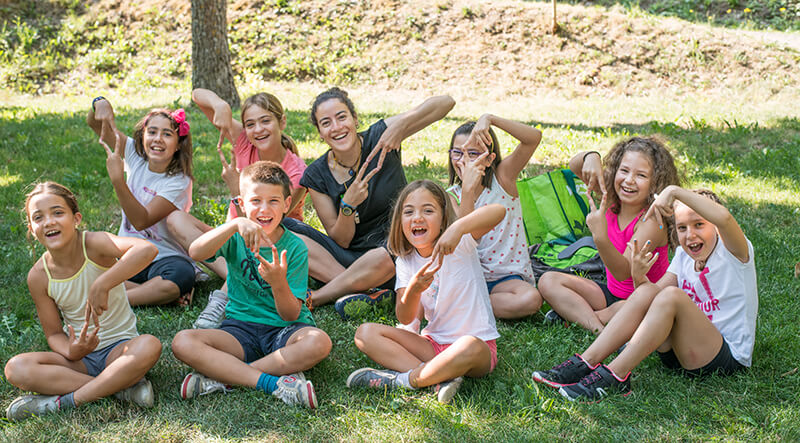 Yes, friends, the Verneda Camping Mountain Resort is a place for Animal Lovers, so you can plan your perfect holiday in the Aran Valley accompanied by your dog. And, setting out from our facilities you can take them on a walk every morning along the Camin Reiau and watch how they frolic with all the sticks and jump into the Garonne River.
With all this and much more, you are invited to experience the #VernedaLIFE year round!