If you're looking for a place to feel and thrill to Nature at its purest, at the Verneda Camping Mountain Resort we offer direct access to the most popular trail in the Aran Valley: El Camin Reiau.
This is the perfect hike to expose children to Nature at its most authentic, and to enjoy with family and friends the different sections making up this historic trail, either on foot, with your dog, running, or on two wheels. The Camin Reiau is the perfect active tourism experience, just steps away from the Verneda Camping Mountain Resort.
Hiking or mountain biking routes for all levels
The Campings Bike & Run (CB&R) offer a series of trails to enjoy, by bike or on foot, departing right from and returning to the campground.
The Bike & Run routes were created by the Lleida Campsites Association and are specially designed and organised by difficulty level.
River Walk
The ideal after-lunch stroll, or to take your dog out for a walk first thing in the morning, and also the perfect place to get your feet wet on the riverbank, without even having to leave the campingsite.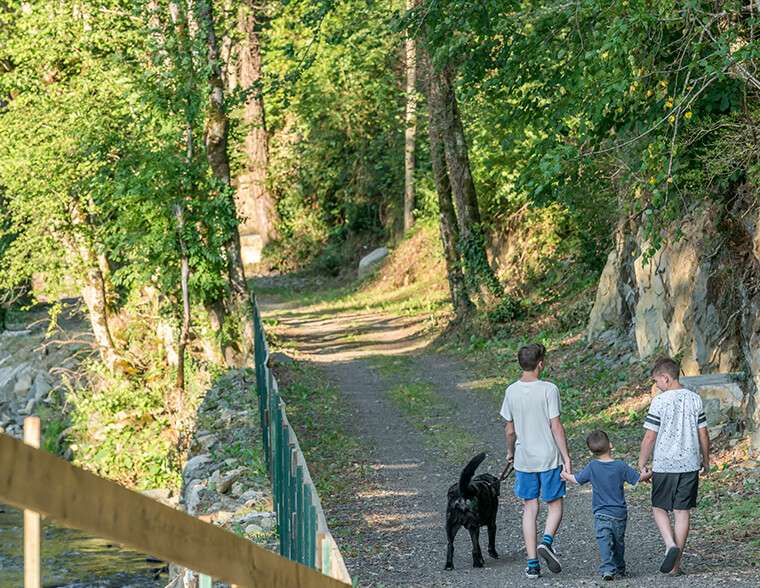 History
El Camin Reiau is a path connecting all the villages of the Aran Valley. The history of this road goes all the way back to Roman times. It is said that the Camin Reiau came from the Via Tolosana, today the French city of Toulouse, and stretched to Tarraco Imperial (today, Tarragona). Hence its name, translated as the Camino Real, or Royal Road.
El Camin Reiau is some 150 km long, rolling up and down; 600 m of ascent, followed by 600 m of descent along the entire trail. Although the route was initially linear, running through forests of beech, oak and fir, today it connects the Aran Valley's villages, and has become the favourite trail of both Aranese locals and the tourists visiting this corner of the Catalonian Pyrenees whenever they can.
El Camin Reiau can be travelled in its entirety (by bicycle, for example), or its ten stages, based on the sections linking the different towns, or can be done separately. These stages are: from Vielha to Salardú, from Salardú to Montgarri, from Arties to Montcorbau, from Arres de Jos to Canejan, from Canejan to Era Honeria, from Era Honeria to Bausen, from Bausen to Bossòst, and from Bossòst to Vielha.
In the different stages, in addition to experiencing this ancient Pyrenean road, one learns about the Aran Valley's history, through its villages, churches, monuments, archaeological ruins and, of course, its stunning scenery, with its outstanding views of the Valley.